THE OFFICIAL OPENING
Saturday 14 May 2022 at 5 pm
3 BIENNALE ARTE DOLOMITI
"THE KEY TO BE FREE"
FORTE DI MONTE RICCO - PIEVE DI CADORE
BELLUNO - ITALY
15 / 05 / 2022 – 17 / 07 / 2022
BIENNALE 2022
The 3rd Biennale Arte Dolomiti 2022 is a milestone – marking the robust recovery and resuming of this leading mountain biennale (with its previous editions in 2016 and 2018) after the disruption of the COVID-19 pandemic.
The 3rd Biennale Arte Dolomiti 2022 is proud to announce the strong participation of local and international artists (35 artists in all), with a strong showing of 10 Italian artists and 25 visual artists from more than 15 countries including Australia, Austria, Brazil, Finland, France, Greece, Israel, Palestine, Poland, Turkey, Singapore, United Arab Emirates (UAE) and United States of America (USA).
The 3rd Biennale Arte Dolomiti 2022 announces a fresh venue as this year's platform – the historic site of the Forte di Monte Ricco (or Monte Ricco Fort) (Pieve Di Cadore).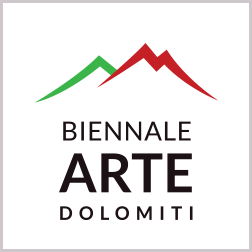 The idea of freedom – in all its diverse aspects and forms – is the theme for this 3rd edition of the Biennale, with calls to artists of varying nationalities and different stages of their practice to reflect on and respond to notions of freedom, liberties and emancipations.
The ideas of freedom have a deeper resonance in our recent times. While the Great War of the Dolomites still resound in many in the Alpine region, the spectre of the threat of war in Europe has intensified with daily news relating to the Russian-Ukraine conflict.
All this even as many countries continue to suffer the shared experience of restrictions, lock-downs and rules to curb the spread of the COVID-19 virus and its variants – that inevitably also curb our freedom to travel and interact with each other.
There is also the notion of freedom that is linked to ideas of Nature and environmental sustainability – where individual freedoms and economic liberties, (seen in excessive consumption and waste), have been taken at the expense of Nature and a sustainable way of life. A different kind of war with Nature has been going on.
It is the vision of the 3rd Biennale Arte Dolomiti to give the visitor a moment of peace, pause, remembrance, thought and action, in response to the diverse forms of art, in a historic fort, enveloped by uncontaminated nature – rousing us like a hymn or anthem to freedom beyond boundaries of nationality, age, gender or resources.
The Biennale is proud to present a contemporary exhibition of weight and significance as artists around the world enrich our understanding of freedoms and what it means.
The historic fort of Monte Ricco is situated at an altitude of 953 m above sea-level. Once a pre-modern castle, it has undergone several conversions including into a military fortress in the late 19th century.
It was reconstructed between 1882 and 1895, together with fortifications of the Cadore entrenched camp, in a defensive system erected to defend the territory against the Austro-Hungarian Empire. The Austrians took possession of it in 1917, and blew it up a year later, at the end of the war. Following the Italian counterattack, the fort was abandoned. In 1940, at the outbreak of the Second World War, the fort was still on the front line, part of the Alpine valley. The strengthening of the Cadore defensive system was never implemented, and the fort was remained abandoned.
the other Recent extensive restorations and management, led by the Municipality of the Pieve di Cadore and Museo & Fondazione Tiziano and Museo dell'Occhiale have led to the Fort's re-branding as a heritage and cultural site – with its official re-opening in May 2017 marked by the launch of a contemporary art exhibition.
The fort continues this identity and direction as a platform for contemporary artistic expressions in Italy and internationally with the inauguration of the 3rd Biennale Arte Dolomiti 2022 on the 15 May 2022.
The great cultural value of this Biennale event guarantees a tremendous reception and response from the public. The branding and identity of the fort as a space for contemporary culture enhances the lively interaction between art and the mountains with the invaluable support from the political-cultural authorities and the local and international press.

ARTISTS
ITALY
CARLA BENVENUTO
PAOLO BRUGIOLO
CRISTINA RICCI CURBASTRO
FERRUCCIO GARD
ANGELO MURIOTTO
RENATA OLIVOTTI
FRANCO OLIVERI
PAOLO LORENZO PARISI
LUISA PERINELLI
MARIO TESTA
TONI VENZO
SILVIA ZAMBON
AUSTRALIA
COLIN G. REANEY
KAREE S. DAHL
VIRGINIA RYAN
AUSTRIA
BRAZIL
MARCOS ANDRUCHAK
FABIO DI OJUARA
DANIEL TORRES
FINLAND
FRANCE
GERMANY
GREECE
ISRAEL
PALESTINE
POLAND
JO'SEF KRZYSZTOF ORACZEWSKI
DOMINIKA ZAMARA SOPRANO
PHOTOGRAPHY by STEFANO GERARDI
Artist photo Dominika Zamara by ANITA PAWSKA
Video Dominika Zamara by ENRICO BERTATO
TURKEY
SINGAPORE
BEN PUAH
CRISTENE CHANG HOEI
YEO CHEE KIONG
UNITED ARAB EMIRATES/ITALY
SARAH LAURA NESTI WILLARD
UNITED ARAB EMIRATES/USA
USA
VARIOUS ORIGINS
MIN CHEN WITH ODD TREE STUDIO
DOVE PRENOTARE
Prenota la tua permanenza nel cuore delle Dolomiti, scegli tra le varie strutture ricettive convenzionate con il nostro progetto, effettua la tua prenotazione e goditi l'esperienza della 3° edizione di Biennale Arte Dolomiti 2022.
SPECIAL THANKS TO:
IL COMUNE DI PIEVE DI CADORE, BL
IL SINDACO GIUSEPPE CASAGRANDE
CATALOGUE:
GRAFICA SANVITESE, SAN VITO BL
WEB SITE GOOVER CREATIVE, TREVISO TV
WWW.BIENNALEARTE.COM
INFO HOTELS: www.prenotahotel.it
INFO: paiviproarte@gmail.com
FACEBOOK: biennale arte dolomiti
INSTAGRAM: paiviproarte
IMPORTANT DATES:
Preview and Opening event: Sat 14 May 2022 at 5 pm
Open for public from Sun 15 May 2022 10 am – 12 pm — 3 pm – 6 pm
Open every day 10 am – 12 pm — 3 pm – 6 pm
Finnissage: Sun 17 July 2022 at 6 pm
The OFFICIAL OPENING Saturday 14 May 2022 at 5 pm will present a live performances of:
MUSIC
Soprano DOMINIKA ZAMARA (POLAND/ITALY), accompanied by Pianoforte FRANCO MORO (ITALY)
DANZA&PERFORMANCE:
Veronica Fernandes Schell and Pierre do Vale (BRAZIL)
Fabio di Ojuara (BRAZIL)
SPECIAL PROGRAMS:
Special events programs will be organized during the weekends of the Biennale.